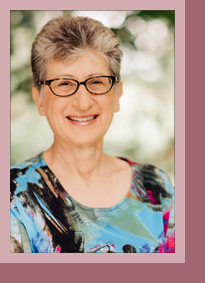 Gabriella Goliger's first book, Song of Ascent, won the 2001 Upper Canada Writer's Craft Award. She was co-winner of the 1997 Journey Prize for short fiction, was a finalist for this prize in 1995 and won the Prism International award in 1993. In 2011, Gabriella won the Ottawa Book Award for Fiction for her second novel, Girl Unwrapped. She has also been published in a number of journals and anthologies including Best New American Voices 2000 and Contemporary Jewish Writing in Canada.
Her educational credentials include a B.A. from McGill University and an M.A. in English literature from the Hebrew University of Jerusalem. Born in Italy, Gabriella grew up in Montreal and has also lived in Israel, the Eastern Arctic, Victoria, B.C. and Ottawa, Ontario. This last place has been her home for the past 30 years. She has earned her living as a freelance writer and editor, but, these days, devotes almost all her time to her fiction. She has lived with her partner, Barbara Freeman, for almost three decades; they've been married since 2006.
---
Qs & As
What led you to become a writer?
It's something I always wanted to do. My mother had a poetic sensibility, read aloud to me and planted in me the seeds of a lifelong love of language and stories. She would herself have like to become a writer but she never had the opportunities I had at the time, education or encouragement.

What motivated you to write Girl Unwrapped?
I wanted to write from the two major sources of my identity and my outsider status as the lesbian and the Jewish me. However, this book is not autobiographical. I worked at making my protagonist, Toni Goldblatt, a character unto herself rather than an alter ego. She's taller, butchier, more spontaneous and more bumbling than I ever was. I drew on my own life of course, but the events in the novel are fiction, as are the characters.
What inspired you to write Eva Salomon's War?
The story of Eva Salomon's War is loosely based on some personal family history. I had an aunt who went to Palestine in the 1930s and had a relationship with a British policeman. And she too had a very nasty, traumatizing encounter with ultra-nationalist Jewish extremists. I never heard this story from my aunt herself, only from other family members, and only the bare bones, only in whispers, so to speak. My aunt died fairly young, before I was at an age and stage where I might have asked her questions directly. I wanted to try to understand, through the process of writing fiction, what might have happened.